The new front wing concept Renault introduced at Formula 1's German Grand Prix was subject to further alterations in Hungary, as the team continues to develop its 2018 car.
The wing, which only Nico Hulkenberg raced in Germany, features a multi-element endplate plus a novel flap and adjuster arrangement with the aim of fixing medium- and high-speed cornering issues.
But the team had reason to modify at the Hungaroring, where speeds are much lower and maximum downforce is firmly on the agenda.
A large wedge-shaped panel was stitched in to the front wing's mainplane, which meant there were slots either side of it (highlighted in green) rather than running the full width of the wing as was originally intended (highlighted in green, inset).
This change altered not only the proportional amount of downforce that can be generated, but also the way in which the Y250 vortex forms, plus the outwash generated by the outer section of the wing.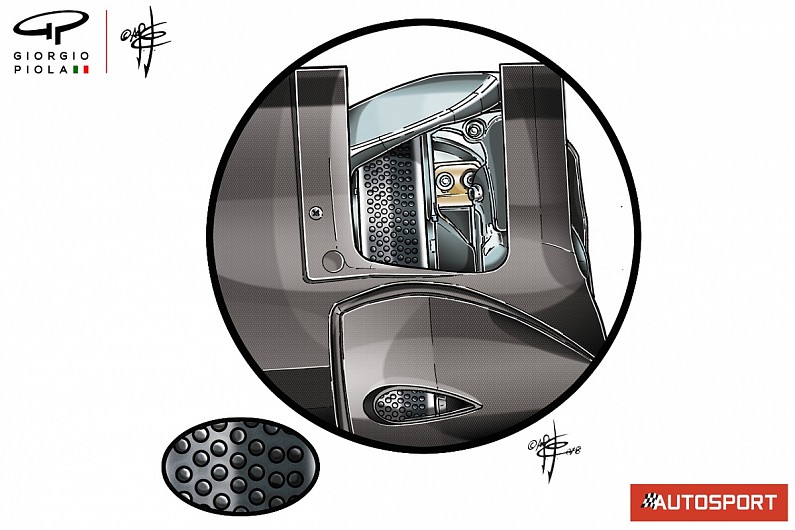 Renault also made a specification change to its brake disc set-up in Hungary.
The team, which is supplied by Carbon Industrie, has opted for a more aggressive brake disc selection in the last couple of races as it did at stages of its 2017 campaign.
The design features a scalloped face rather than a flat one and alters the way in which heat is rejected by the disc, with the drill positions amended to take advantage.
The upshot of this is that the team does not have to suffer the aerodynamic penalty of using a larger capacity cooling inlet, as the disc can reject more heat.