MotoGP and Silverstone have just signed a contract which will keep the British Grand Prix at Silverstone for the next three years.
This year's race is being held over the August Bank Holiday weekend, and if you needed a better reason than that to book your tickets for the 2018 British MotoGP, we've come up with 10.
Historical significance
In 1977, Silverstone hosted the first motorcycle grand prix ever held on the British mainland. Before then, British motorcycle Grand Prix races had been held on the Isle of Man TT circuit. Silverstone brought MotoGP into its modern era and the British race, while it has moved around since, has always come back to this iconic track.
Book your tickets for MotoGP's British Grand Prix
Big names
From championship leader Marc Marquez and his main challengers Valentino Rossi and Maverick Vinales, plus Ducati chargers Jorge Lorenzo and Andrea Dovizioso, you'll never quite know what the MotoGP season is going to throw at you next. Ten different riders have already managed podium finishes so far this year.
Support the Brits
There are three British racers competing in MotoGP this year: Cal Crutchlow, Bradley Smith and Scott Redding. Crutchlow is currently 8th in the championship with one win to his name this year, and he took pole at Silverstone in 2016 so he'll be looking to give the home fans something to cheer about again in 2018.
Real racing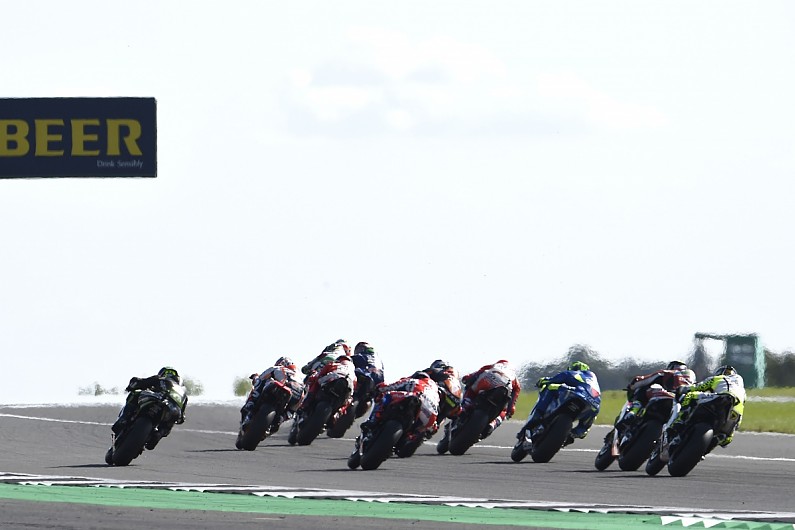 Yes, at 3.6 miles the Silverstone circuit might be on the lengthy side for MotoGP. But there's a reason Silverstone management chose to use the full circuit rather than a shorter option. This track provides ample slipstreaming opportunities and therefore spectators are sure to see some fantastic racing.
Trackside views
The beauty of Silverstone is that you don't have to go VIP to get close to the action. Even in the general admission areas, you can see the bikes for long periods of time, getting an up-close view of how hard the riders have to work to tame the machines they are holding onto. Plus, there are 14 giant screens positioned around the circuit so wherever you are, you can follow the race closely. Though if you want a better view, it's only £20 to upgrade to a grandstand seat.
Free radio coverage
The race commentary is being broadcast free across Silverstone – and you don't even need to buy special earpieces. Just bring your radio from home and don't miss a moment of what's happening on track by tuning in from wherever you are around the circuit.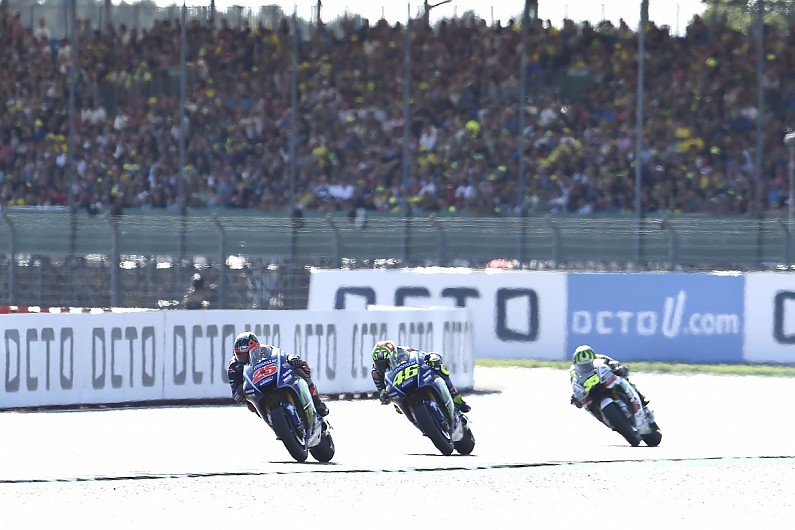 Entertainment
From live music from Saturday night's headliner (award-winning hip-hop and soul artist Plan B) to zorbing, football darts, the extreme wheelie machine and plenty of MotoGP-themed activities for kids; there's plenty to keep the whole family entertained over the Bank Holiday weekend when things are quiet on track.
Day of Champions
Organised by official MotoGP charity Two Wheels for Health, the Day of Champions will bring non-stop entertainment from 9am-8pm on Thursday 23rd August in the Entertainment Zone, including live stunt shows, interviews with the stars of MotoGP and the famous auction. The charity raises money to provide reliable two-wheeled transport for health workers in rural Africa.
Children go free
MotoGP offers a real family atmosphere, and this is something Silverstone is keen to reinforce. That's why, on race day, children under 10 go free. Plus, that's being extended to children aged 15 and under on Friday and Saturday for practice and qualifying.
Stars of the future
Grand Prix motorcycle racing has a well established ladder for the best riders to make their way through the ranks, with Moto2 and Moto3 grids bursting with the next MotoGP stars. The Moto3 bikes might be the smallest you'll see that weekend, but they are guaranteed to produce race-long slipstreaming action you won't want to miss on Sunday morning.
Book your tickets for MotoGP's British Grand Prix with BookMoto.com